jobs
now browsing by tag
Rory Garforth is available to provide advice and support with Job applications and developing your ICT. He's working remotely and is currently working through pre booked phone appointments (Monday – Wedensday). Drop him a message or give him a call to see how he can help you.
 
07813022087 – info@decv.co.uk X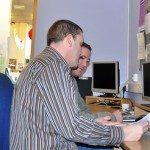 Community advisors for the job centre, working in partnership with DECV are now based in DECV's public Room (Monday, Tuesday, Thursday, Friday), offering advice to people looking for work and training.  As well as lists of current vacancies,  their role is to work out travel plans to help Thurnscoe people get to places of work, CV creation, calculate how you would be affected financially by take-up of a job and what impact this might have on benefits.
" Engaging with a wide variety of jobseekers, from those just seeking advice on a job application form to those seeking training or opportunities to develop work experience. One of the most important issues linked to recruitment and jobseeking is the rise in use of the internet.  Many jobs are only advertised online and often require CV's to be created and emailed online.  The partnership with DECV is working extremely well, with over 100 jobseekers gaining an ICT qualification and job search skills."    
For information and booking a slot call 01709 889880 / 01709 890001 or drop into the Library/DECV during normal hours, Monday to Friday (except Wednesday).