The Embankment Children's Centre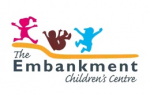 Offering groups for children between the ages of 0 and 5 years old.

General information about The Embankment Children's Centre
Station Road
Thurnscoe
Rotherham
S63 OJR
Telephone: 01709 899050
Nursery enquiries: please contact Andrea Mills, Assistant Centre Manager, on 01709 899050 or at andreamills@barnsley.gov.uk
Centre Manager: Lynne Brooke
Email: lynnebrooke@barnsley.gov.uk
What parents think
"I've always been extremely pleased with all the staff at The Embankment Children's Centre.  They have always made us feel really welcome."
About us
The Embankment Children's Centre – your platform to:
an on track education
good health
training and employment support
advice on benefits
a multitude of services under one roof
nursery – open 51 weeks a year, 10 hours a day
high quality teaching and care
highly qualified, CRB checked staff
We hold a range of weekly sessions such as baby nassage groups, play workshops, child development, work clubs, cooking on a budget, Webster Stratton and breastfeeding groups as well as other support services delivered by our partners, for example stop smoking, Adult learning and antenatal booking clinics.  Confidential one-to-one support sessions are also available from our Family Support Worker.
People to talk to
Lynne Brooke – Centre Manager
Andrea Mills – Assistant Manager
Andrea Mellor – Family Support Worker
Lisa Laughton – Outreach Worker
Freddie Buonafine-Stimpson – Outreach Worker
Kirstie Philip – Outreach Worker
Fiona Cartledge – Early Years Consultant
James O'Mara – Chef/Health Trainer
Karen Moffett – Assistant Chef/Nursery Cook
Our childcare arrangements
We offer a range of sessions to meet the needs of individual parents and carers. Children's education and welfare are paramount as they develop at their own pace, learning through play in a well equipped, stimulating and exciting indoor and outdoor environment. Self-service, healthy breakfasts, snacks, a two course lunch and two course tea are provided by our in-house chef.
Age range
Birth to five years
Opening hours
8.00am to 6:00pm
Fees
From April 2011 childcare fees are as follows:

0-2 years:
£165 per week
£34 per day
8am-1pm: £18
1pm-6pm: £18

2-5 years:
£145 per week
£32 per day
8am-1pm £17
1pm-6pm: £17

Special provisions
Able to provide for children with additional needs, outside sensory garden and indoor sensory room.
Please click here to download a PDF of current activities/timetable.